"In stitches @ St Georges" is an informal group who meet together with a common enjoyment of knitting or crochet.The group meets on the 2nd Friday of each month and the next meeting will take place on Friday 13th March between 10am and 12 noon in the Ruishton Church Meeting Room.
Newcomers are always welcome and anyone who enjoys knitting or crochet should just come along. Muriel Coles 443019
Each year the group chooses a project to work on together. This project provides plenty of knitting or crotchet to keep everyone as busy as they wish. Members can however if they wish bring their own work to a meeting or can take the opportunity to ask advise or learn a new skill.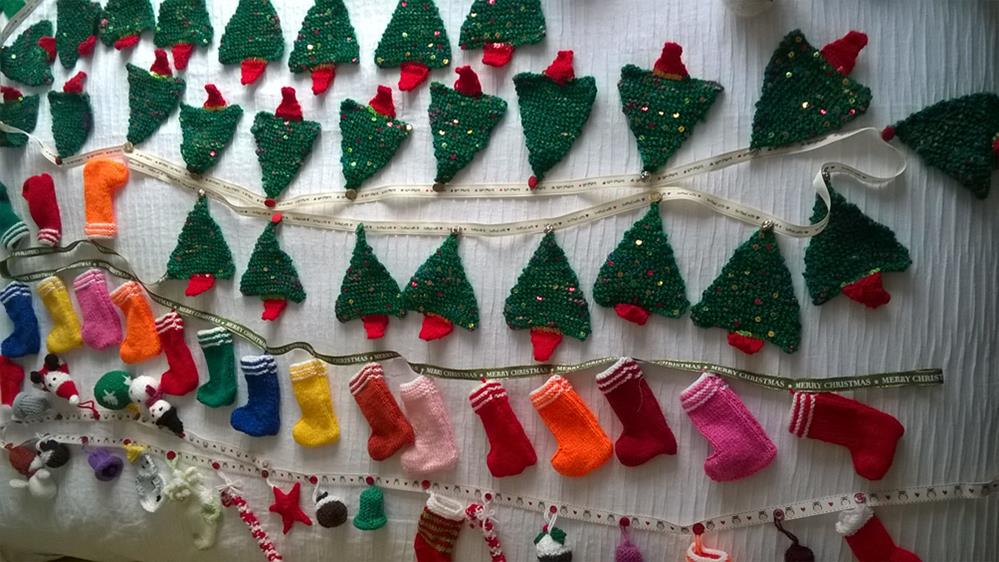 Last Christmas the group created Christmas decorations for the Children's Wards at Musgrove Park Hospital. We made and presented a selection of knitted chains, bunting, baubles and a banner which we will hope to add to in the future.
The group also assembled part of the "life-sized" nativity scene made in 2016 for display at a new venue. During the Advent season Mary, Joseph, and baby Jesus (plus the sheep) illustrated the greatest story ever told in the chapel of Musgrove Park Hospital.
How to find Ruishton Church Meeting Room (TA3 5LL)
Looking at Ruishton Church from Church Lane, the white gates of "The Old Vicarage" are on your left. Go through those gates and follow the left fork of the driveway for about 40m. The modern brick building of the Church Meeting Room will appear ahead.
Please click on the links for story of the projects that the 'In Stiches' group has worked on over the past few years:
Flower arch and Nativity scene
Knitting patterns for life-size nativity scene
The Creech Knitting Group meets every other week for a cup of tea, a chat and, of course, lots of knitting. Knitted strips are made into blankets and many jumpers, hats and scarves are also produced. Other people make knitted items at home which are then passed on to the group. The items are forwarded to 'Christian Response for Eastern Europe' who ship them to Moldova, Europe's poorest country, providing warm clothing for many who live in poverty. Some of the smaller items produced by the group are also included in the shoeboxes that are filled each year by church members for the 'Operation Christmas Child' charity who bring a bit of Christmas cheer to children in Africa and Eastern Europe.