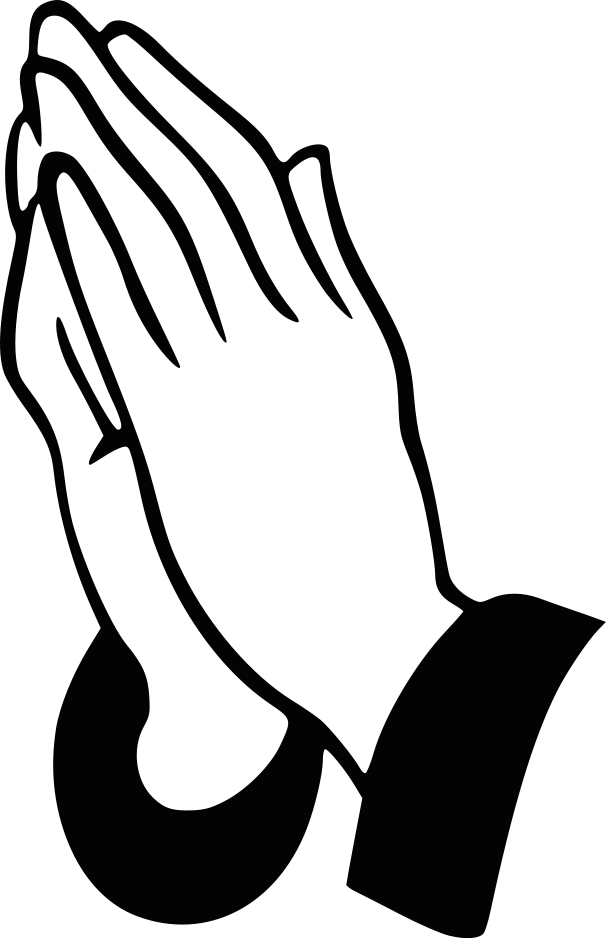 Please click here for the Prayer Diary for June.
St George's Church Quiet Day
St George's Church Quiet Day is to be held on Wednesday 5 June in the Ruishton Church meeting room, led by Revd Jane Eastell
Beginning at 10.00 am with coffee there will be an introduction by Jane followed by a time of quiet reflection when you will be able to sit in church, go for a walk –weather permitting- or stay in the meeting room.
Lunch 12.30 pm will be at the Ruishton Inn at a cost of £5. After lunch there will be another input from Jane followed by quiet time and reflection. The day will end with a short service of Holy Communion in Ruishton Church, followed by tea and cake in the meeting room about 3.30 pm.
To book lunch please contact Ken Coles on 412019.
Any questions to Margaret 412064 or Ken.
Look forward to seeing you there.
Home Study Group
Further exploration into the book of Hebrews
We invite you to join this relaxed friendly group - for more information pleases contact. Paul Harper 443369 Mick Thomas 442435
Monday June 3 10:30 AM – 11.45 6 Paddock Close C-St-M
Monday June 17 10:30 AM – 11.45 6 Paddock Close C-St-M
Monday July 1 10:30 AM – 11.45 6 Paddock Close C-St-M
Monday July 15 10:30 AM – 11.45 6 Paddock Close C-St-M
Home Bible Study- (Coffee / tea available from 10.15) Bible study starts around 10:30am finish about 11.45.
In June we discuss our next series of studies starting in September.
For more information pleae contact the church office.
THY KINGDOM COME 30 MAY – 9 JUNE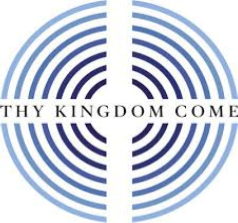 The Archbishops of Canterbury and York, Archbishop Justin and Archbishop John, have issued a call to prayer during the days between Ascension Day and Pentecost. These have traditionally been a time of prayer for the coming of the Holy Spirit. Before he ascended into heaven, Jesus called his disciples to wait in Jerusalem for the Holy Spirit to come upon them, who would equip them for all that he wanted them to do. This is what we read about in Acts chapter 2, and we celebrate at Pentecost, which this year is on 9 June.
The Archbishops would like us all to be especially vigilant in our prayers during this time, praying particularly that the Holy Spirit would be at work in our lives, in our churches, in our communities and in our world. This has been growing over the last few years. A particular call is to pray for our friends, family members, neighbours and others to come to know Christ for themselves, and for our faith to grow.
There are lots of resources available to help us pray, and I have some free booklets available which will be in our churches in time for the start of the season, on Ascension Day, 30 May. There's a booklet called Novena – Nine days of Prayer, which has a picture for each day, and a short reflection and prayer. There is also a Prayer Journal with a page for each day and ideas for prayers each day.
There are also booklets especially for families with children. Furthermore we have the following events taking place during which we shall be including prayer as part of Thy Kingdom Come:
· Ascension Day Service of Holy Communion on Thursday 30 May at 9.30 am in the Creech meeting room.
· Services on Sunday 2 June in all our churches
· A prayer walk around Ruishton on Tuesday 4 June at 7.30 pm (more details to be announced nearer the time).
· Quiet Day at Ruishton on Wednesday 5 June (see separate notice about this).
· Services in our churches on Sunday 9 June, Pentecost.
Please pick up a booklet from one of our churches and use them at home during this time. This is taking place all over the world! We long to see more people come to know Christ, and for God's kingdom to come.
For more details, see: www.thykingdom.global
Rebecca
Morning Prayer in the Benefice
Morning Prayer is held at 8.30 am at Creech Parish Church on Mondays and Wednesdays, at Thornfalcon on Tuesdays and at Ruishton on Thursdays. This is a short, said service where we pray for the needs of our churches, communities and the world. Anyone is welcome to join us at any of these services.
Morning Prayer in April
Please note that there will be no Morning Prayer after Easter until Tuesday 7 May. Thank you.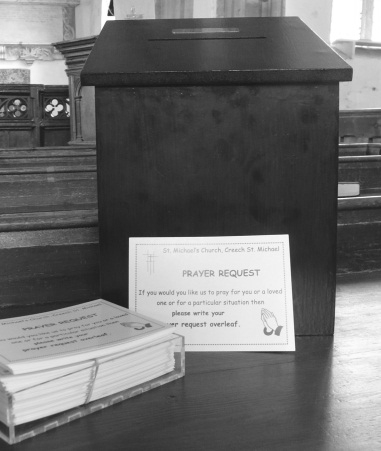 Prayer cards are available in St. Michael's Church.
If you would like a prayer said for someone or for a particular situation then please write the details on a card and place it in the locked box.
The prayers will be included in the next service of Holy Communion.