Dear friends,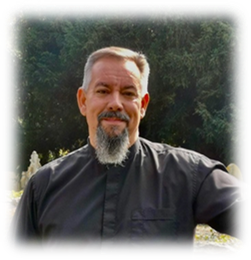 I hope you are well and are managing to avoid some of the bugs colds and fresh bouts of Covid as the colder months take hold. I seem to have got them out of the way so I am hopeful to be able to lead our Christmas Services this year!
As I sit to write this letter to you, I am amid tidying my office. I tend to let things pile up a little, (My co-worker and wife may disagree with the adverb ..little) before I sort and then file away. My in-tray was quite full. It was whilst tidying my desk I can across a photo that was sent to me by a Bride's Father following a recent Wedding at Thornfalcon. A wonderful day!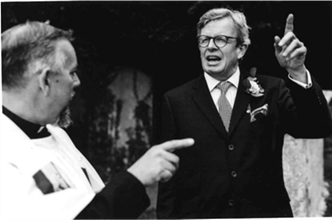 The Caption that came with the photo reads… And I quote :
Overbearing Parishioner: I am telling you, Vicar, heaven is up there!
Vicar: Yes, but to get up there, you need to go in here…
I offer this as it is a humorous and timely reminder that we are now in the Season of Advent. Our schools will be learning about how Advent is a time preparing and waiting.
The above photo reminds us that it's a good idea to remember God and that it is God we come to worship in our churches. Yes, OK, I know you are aware of this, of course you are, however, if you are anything like me, you might let things pile up a little, just like my desk.
I wrote in the Creech Community News last month of how we use Advent to mark a time of waiting for the Birth of Christ. I shared that, each Sunday we light a Candle in Church to help us reflect on the Advent message of Hope, Peace, Joy, and Love. Pertinent themes in our world right now.
In that time, we reflect on all that is to come. We try and take time out of our day to simply meditate, pray or simply be still. This can be a real gift with all the associated pressure and stress of the 'Christmas Season'.
As I get to the bottom of my in-tray and begin to put my office back into good order, I feel a sense of calm and peace. I would hope that you too are able to take some time to get to the bottom of whatever is in your 'in-tray'. Maybe you might like to take a moment or two to reflect on the real meaning of Christmas. The real meaning being, to prepare ourselves to receive the gift of Peace, Love, Joy and Hope. As I clean my desk, it helps me to get ready for what I need to prepare for, over the next several weeks, preparing for our Advent Course, Christmas Services, let-alone family visits and the like. As I file each piece of paper, I make room for what needs to be done next. As we approach Christmas, do use Advent to help you 'de-clutter', ready to make room for the coming of Christ, of course remembering as we do, He, is already with us. As with Easter, we do not need to wait as He is already here. Emmanuel, God with us! And yes, as the photo caption suggests Heaven is out there somewhere, and to learn more about that, do come in here! Hope to see you at one of our services soon!
Wishing you all a very powerful Advent, a very Merry Christmas and a Prosperous New Year.
Revd Lee